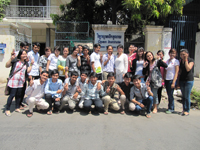 Participants and Trainers at the  training
Phnom Penh: Open Institute organized a training on "Citizen Journalists to promote Gender Equality through Information Communication Technology (ICT)" with the financial support from Open Society Institute (OSI-NY) based in New York, USA. There were 26 participants (11 females, 15 males). 22 students from Royal University of Agriculture, Institute of Foreign Language, Vanda Institute, IIC and 4 staff from the Open Institute.
The training was held on 16th -17th February, 2013 at the Open Institute Hall with the purpose of strengthening the knowledge and capacity of the youth. This was done by using a computer application in Khmer, internet tools to search , access, write, disseminate, and discuss information openly and effectively. Moreover, it contributes to promoting the youth's awareness about media ethnics, law and policies of information dissemination. Especially mainstreaming knowledge related gender equality and the use of citizen journalists through information communication and technology (ICT). This two day training course focused on three main important lessons such as:
Introduction of Gender
Computer Application in Khmer and The use of ICT
Citizen Journalists
Ms. Saviny Pachim Sisowath and Ms. Sok Sokunthea were facilitators on the first day of Gender Introduction. The facilitators started by asking the participants to draw future symbols representing themselves and then share them to the whole group. The participants were asked to brainstorm what womens needs are from men? And what mens needs are from women? Then, the facilitators presented the differences between sex and gender, gender concept, the gendering process, gender and culture, and gender mainstreaming.
In the afternoon of the first day, the participants learned and directly practised with IT experts to apply computer applications in Khmer, Khmer Open Office instalment, Khmer Unicode, free email account creation, blog setup, and the use of Information, Communication and Technology (ICT). The session was facilitated by Mr. Mak Dara, IT expert and Mr. Sok Sophea, the translator of SPICE project of the Open Institute. The facilitators reminded participants that the world is rapidly growing in the information communication and technology (ICT). Cambodia's young generations should have more knowledge and be self-upgrading by accessing information and using the modern technology like other countries. The internet is an important and useful information source for students to search for and support their studies. It is one means to express opinions, discuss openly and more effectively with low cost.
Ms. Nhean Monyvan, the communication officer of SPICE program of the Open Institute and Ms. Savyny Pachimsovat, Gender and Media freelancer co-facilitated, shared the knowledge and experiences related to the topic Citizen Journalists. Participants learned and understood about definition of news, information, the sources of information finding, differences between professional writing and creative writing, what is good news? Story writing planning, short article writing, differences of media advisory and press release, law and media ethics, copy and edition to avoid the complaints from the public.
Ms. Yutha Nida and Mr. Chhoeng Sivvin, students from Royal University of Agriculture of Rural Development, faculty and representatives of the participants expressed that this training provided the youth a lot of knowledge related to the use of information systems, the right of access to information and expressing their opinions. Especially, the facilitators provided opportunities and encouraged the women to be confident in taking part in activities.
This two day training was the last activity of project "Promote Access to Information for Better Participation of Women" to promote the youth in using Information Communication Technology more effectively and more usefully for the development of society, especially the target group women. For this article in khmer pleas read http://women.open.org.kh/km/ict-training-osi
Share this on: