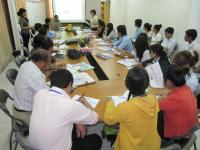 The Open Institute was established in September 2006 by four founding members who are committed to and interested in contributing to the development of a democratic and just society by facilitating and promoting information, communication and knowledge sharing in society through all means and tools. The Open Institute is a not-for-profit and non-governmental organization that was officially registered at the Ministry of Interior on December 15, 2006.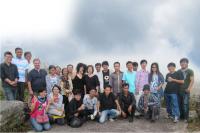 We recognize that citizen participation in political and social movements, with freedom of expression and opinion and freedom to access to information, are fundamental for a democratic and just society. For this reason, the Open Institute was set up with the purpose to provide information, tools, knowledge and to promote dialogue in society. The organization's key strategies are to provide computers programs in the Khmer language, to build capacity by providing computer and e-learning know-how trainings throughout the country, to provide electronic channels for information sharing and discussion, and to organize face to face meetings to discuss social concerns, including topics related to gender equity.

Vision
A country in which widespread access to high quality education, information, communication, and technology lead to a more developed and just society.
Adequate technology and a spirit of quality and innovation enable a competitive industry that can compete in the global economy, in a framework of equitable economic development.
Mission
To ensure that the benefits of technology for social and economic advance are usable in Cambodian society, and in particular:
Enabling widespread use of technology by means of using local language.
Improving access to education and the quality of education by enabling the use of technology.
Using technology to facilitate information sharing and communication as tools to build a more equitable society.
Expanding Khmer lexicography, ensuring access to all sources, and developing on existing materials.
Goals

To make available - in the Khmer language - affordable key computer applications, content management systems, training materials, and related knowledge resources, enabling all Cambodians to fully benefit from Information and Communication Technology.
To enable the integration of ICT in the Education System.
To enable widespread access to education by supplying e-Learning technology and know-how to all educational institutions.
To improve social and gender equality through advocacy and the promotion of information sharing and communication.
To ensure that Khmer lexicography advances at the pace needed by Khmer society.
To make information on key issues of Cambodian society widely available.
Share this on: